Flat Markers
The small size of a flat grass marker adds to the beauty of this type of memorial. Grass markers are a modern way of memorializing our loved ones. Flat markers give the cemetery a park-like look creating a tranquil setting to pay our respects.
Although flat markers are limited in shapes and styles, the artwork choices, and addition of accessories, can personalize the stone creating a lasting reflection of one's life.
Flat markers are usually made from  3" granite, some cemetery regulations dictate markers must be made from  4″ granite.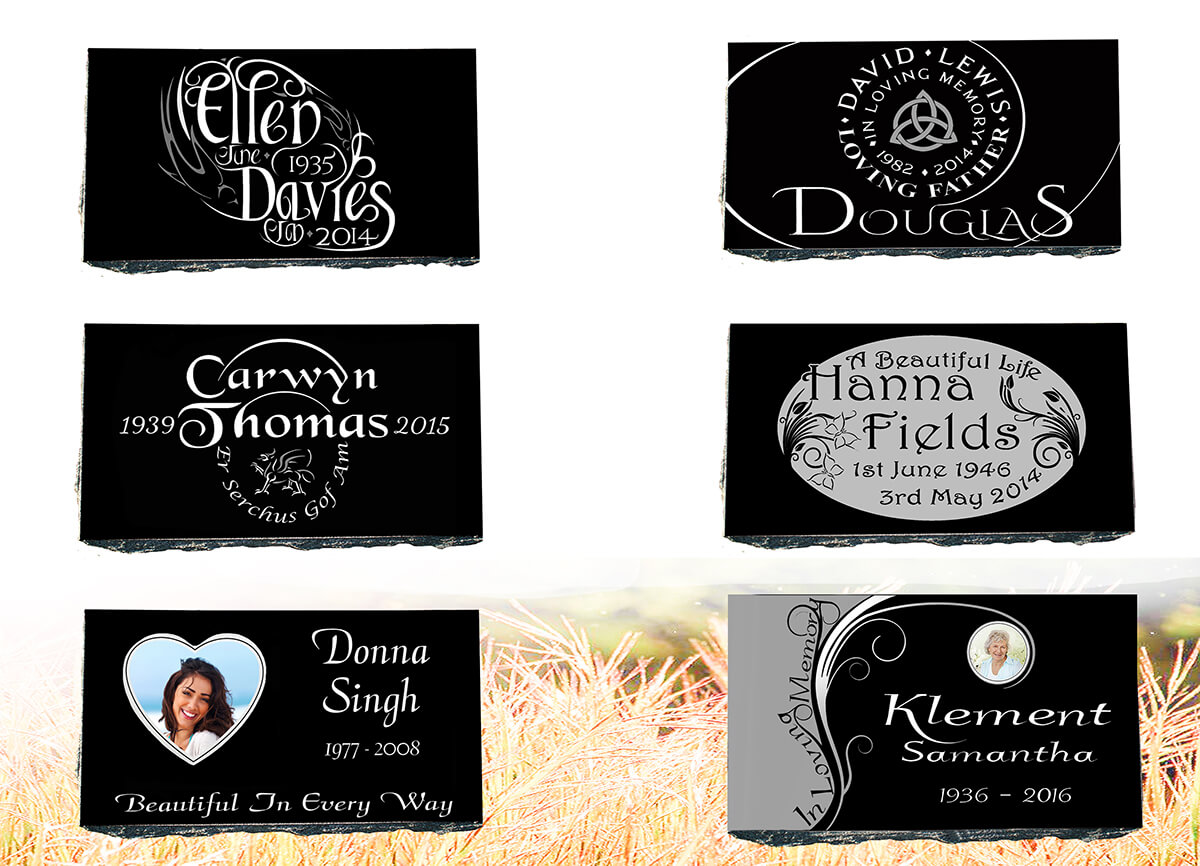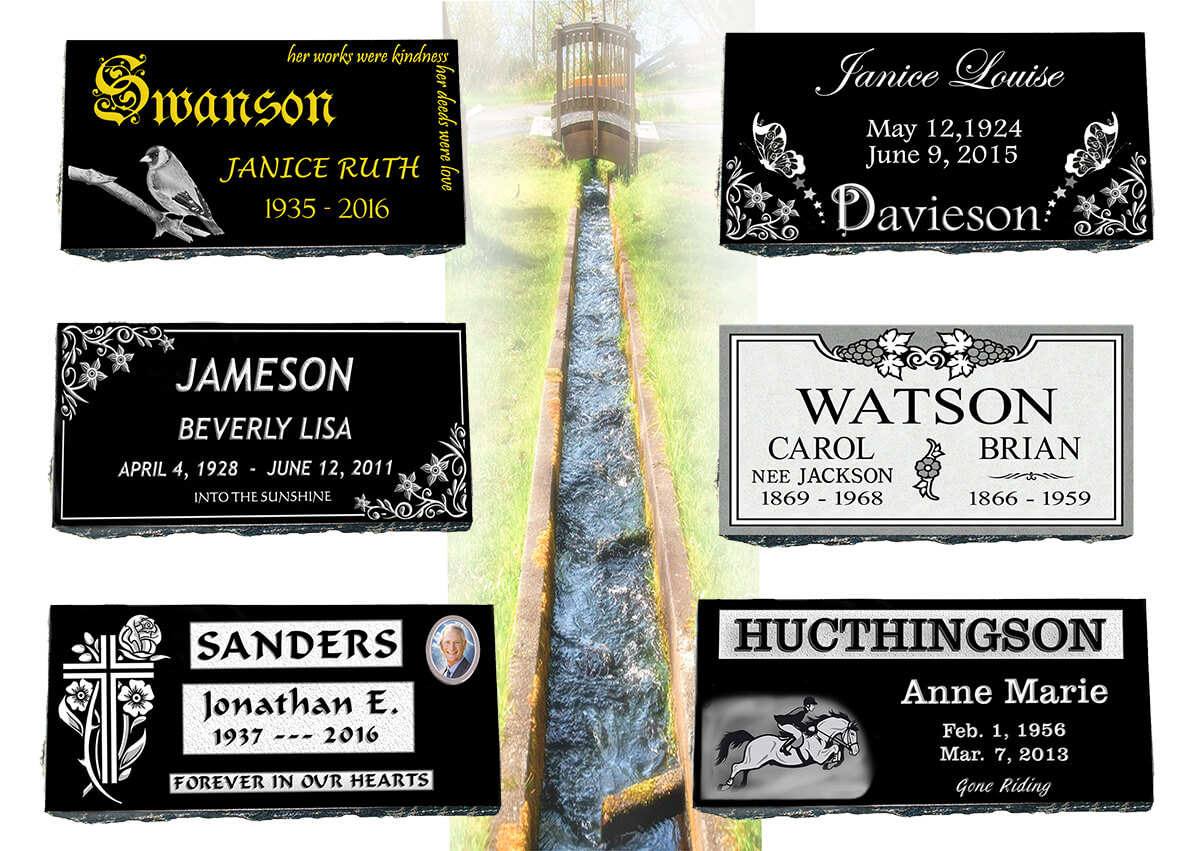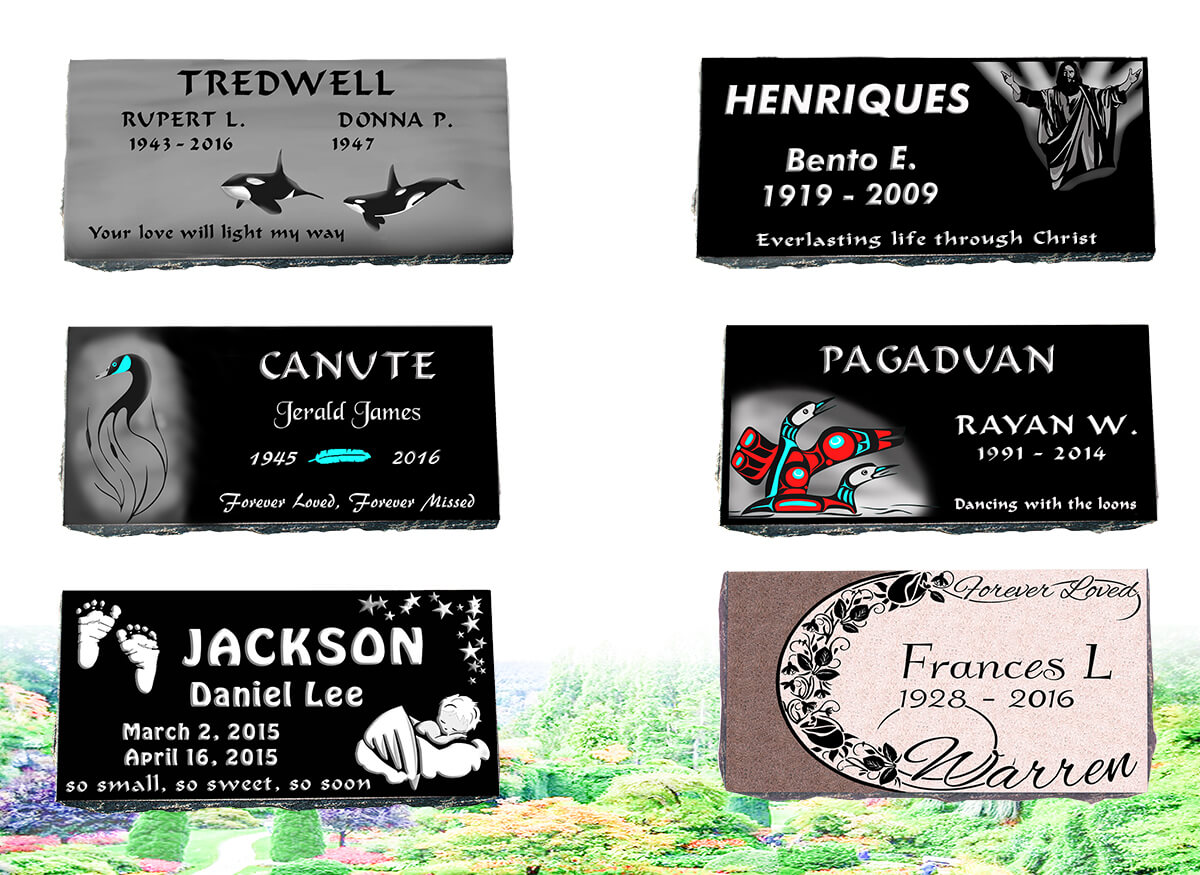 ---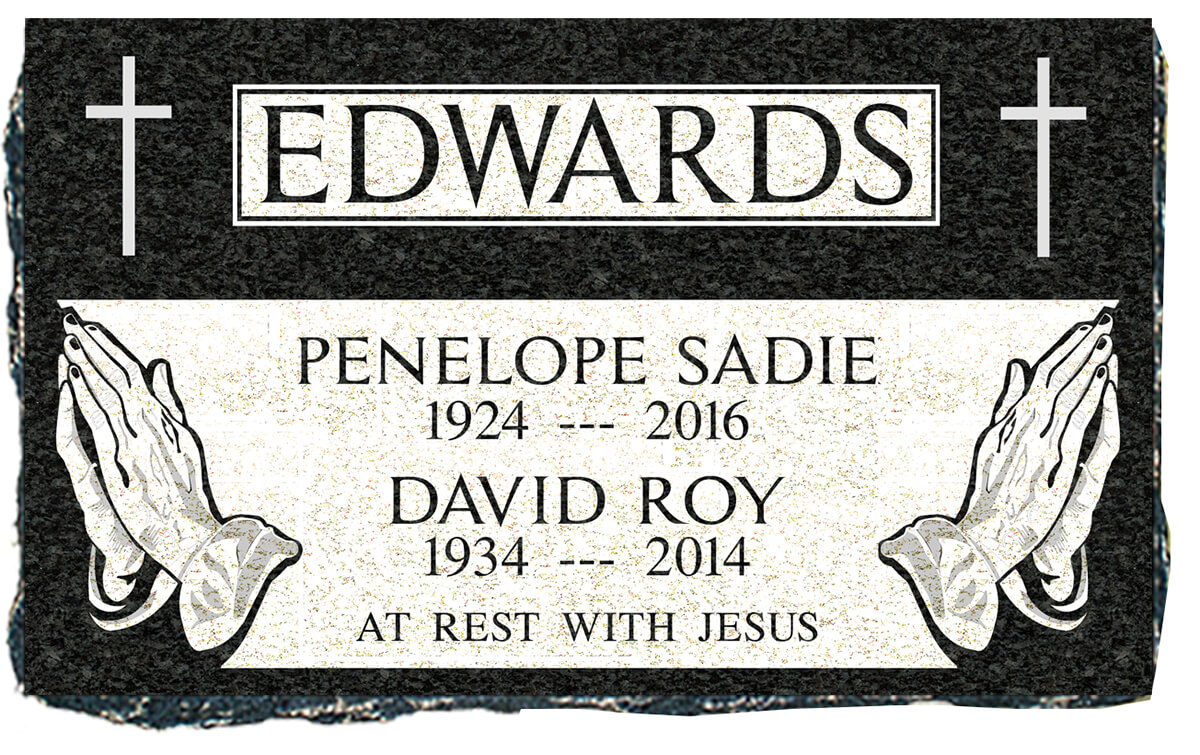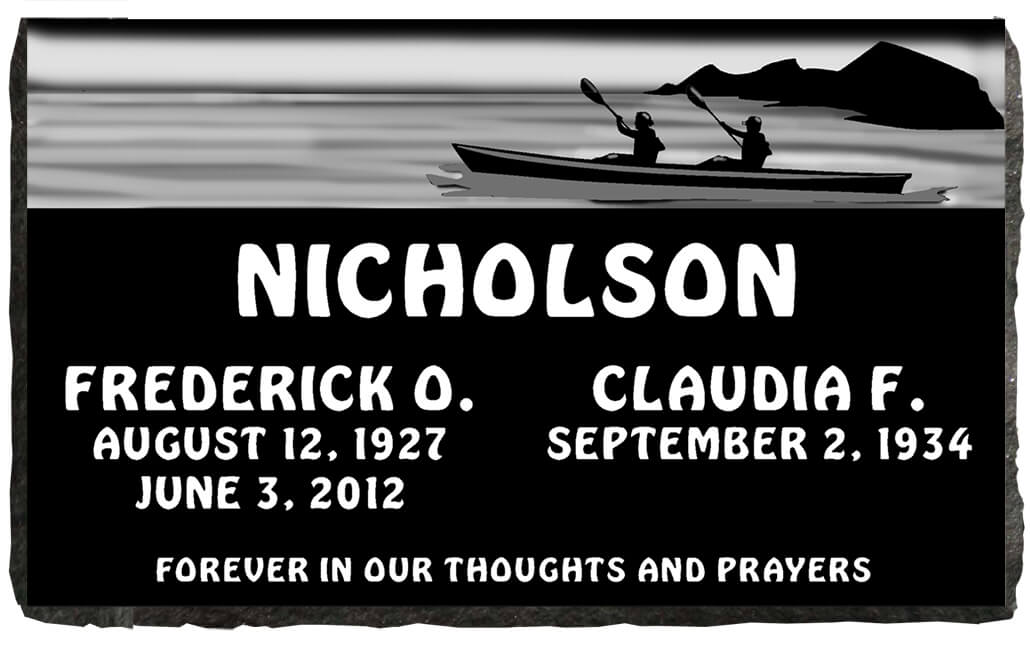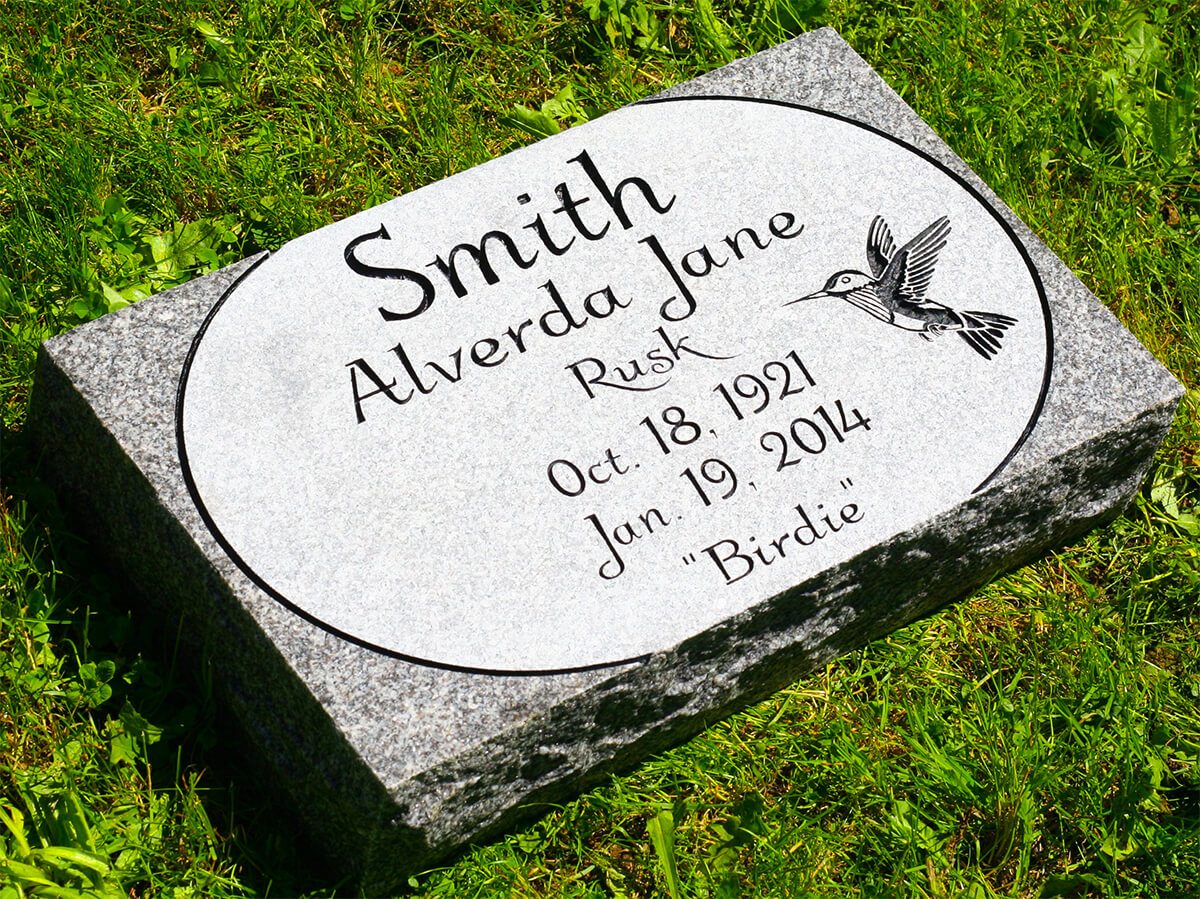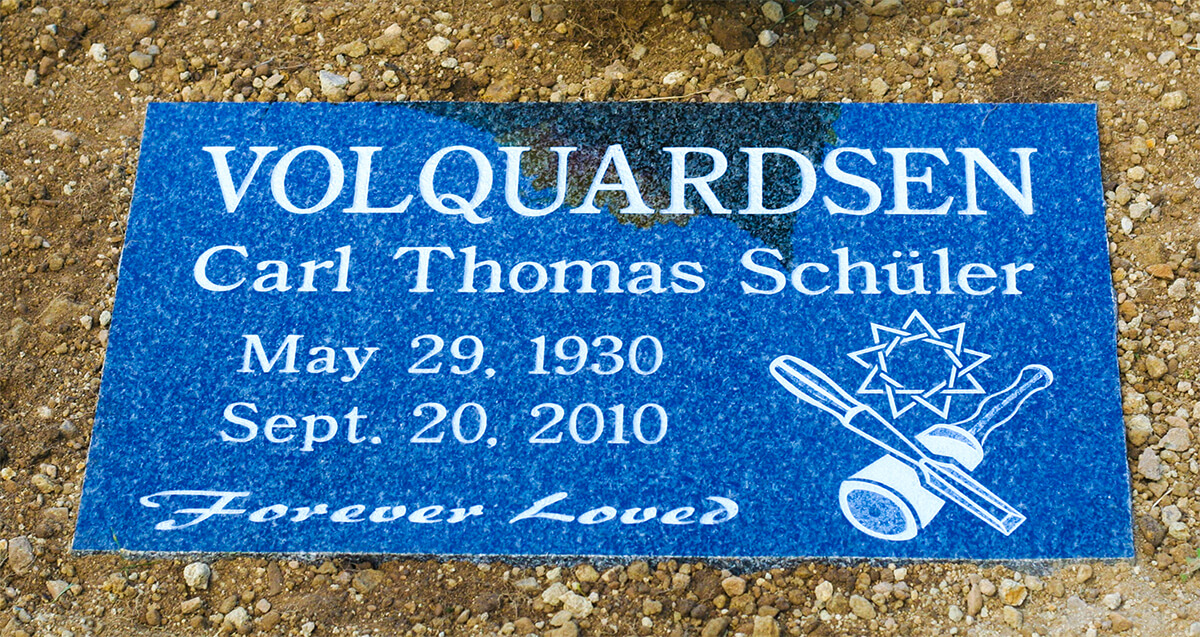 ---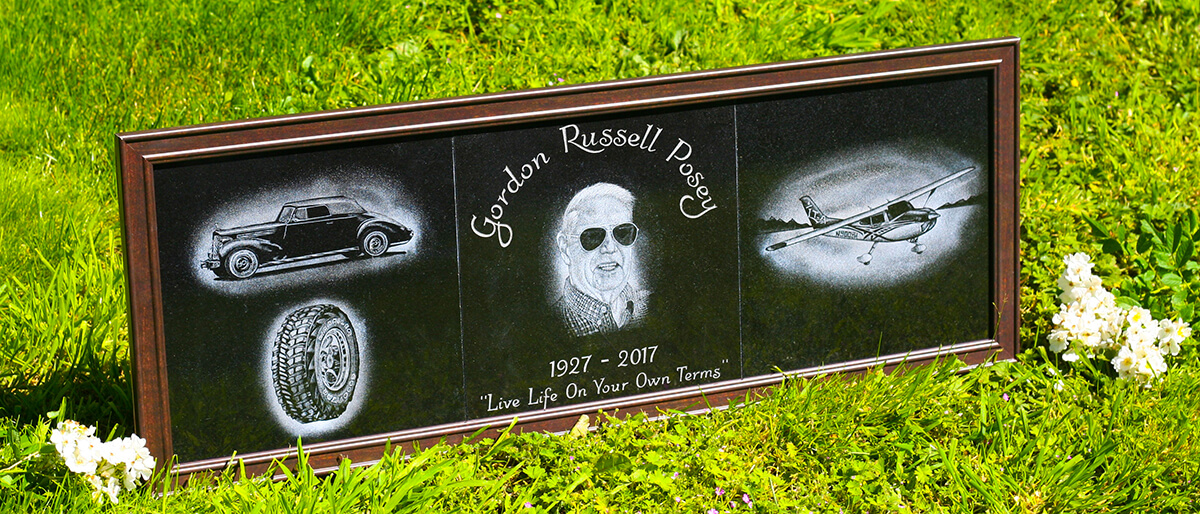 ---
Flat Marker product number and description
M31 1-8 x 1-0 x 0-3  black granite marker design 57 (EVARTS)
M31 1-8 x 1-0 x 0-3  black granite marker design 59  (KING)
M31 1-8 x 1-0 x 0-3  britz blue granite marker design 75 (MURRAY)
M31 1-8 x 1-0 x 0-3  stanstead grey granite memorial  76 (FRASER SHARRON )
M51  2-0 x 1-0 x 0-3  mahogany granite marker design 72 (ATKINS)
M51  2-0 x 1-0 x 0-3  gem mist granite marker design 73 (GARCIA)
M31 1-8 x 1-0 x 0-3 black granite marker design 55 (DAVIES)
M31 1-8 x 1-0 x 0-3 black granite marker design 24 (DOUGLAS)
M31 1-8 x 1-0 x 0-3 black granite marker design 7 (THOMAS)
M31 1-8 x 1-0 x 0-3 black granite marker design 1 (FIELDS)
M31 1-8 x 1-0 x 0-3   black granite marker design  (SINGH) Porcelain portrait optional
M31 1-8 x 1-0 x 0-3   black granite marker design 9  (KLEMENT) Porcelain portrait optional
M51  2-0 x 1-0 x 0-3  black granite marker design 18 (TREDWELL)
M31 1-8 x 1-0 x 0-3  black granite marker design 21 (HENRIQUES)
M31 1-8 x 1-0 x 0-3  black granite marker design 25 (CANUTE)
M31 1-8 x 1-0 x 0-3  black granite marker design 44 (PAGADUAN)
M31 1-8 x 1-0 x 0-3  black granite marker design 22 (JACKSON)
M31 1-8 x 1-0 x 0-3 meadow rose granite memorial design 2 (WARREN)
M31 1-8 x 1-0 x 0-3  black granite marker design 19 (SWANSON)
M51 2-0 x 1-0 x 0-3  black granite marker design 14 (DAVIESON)
M31 1-8 x 1-0 x 0-3  black granite marker design 8 (JAMESON)
M31 1-8 x 1-0 x 0-3 stanstead grey granite flat marker  design 13 (WATSON)
M51 2-0 x 1-0 x 0-3 black granite marker design 28 (SANDERS) Porcelain portrait optional
M51 2-0 x 1-0 x 0-3 black granite marker design 15 (HUTCHINGSON)
M91 2-4 x 1-4 x 0-3  black granite marker design 46 (WARICK)
M131 3-0 x 1-8 x 0-3  black granite marker design 23 (ANDERSON)  Porcelain portrait optional
M31 1-8 x 1-0 x 0-3  black granite marker design 33 (KOSTYANTYN)
M31 1-8 x 1-0 x 0-3  black granite marker design 31 (RICHARDSON)
M21 1-2 x 0-10 x 0-3  black granite marker design 36 (HARVEY)
M21 1-2 x 0-10 x 0-3 black granite marker design 34 (HORTON)
M31 1-8 x 1-0 x 0-3  black granite marker design 68 (FRASER D.)
M31 1-8 x 1-0 x 0-3  black granite marker design 69  (BOUCHARD)
Call Meadowlark Memorials for Headstone prices and a Grass markers price list